Press Release

It was announced today that Hanne & Co Solicitors of Clapham Junction, London, presented local charity Wandsworth Bereavement Service with a one-off donation of £1,800. The cheque was presented to Nicky Wasserman by Lorna Cservenka, Susan Harlow and Keely Harris.
The donation is to help the charity in its vital work offering counselling to both adults and children who are bereaved and living in the Borough of Wandsworth.
Hanne & Co may have a long history, but offers a truly modern service in areas of the law including Child Care, Employment, Conveyancing, Commercial, Probate and Family Law. It has been involved in charitable works for many years, but this is the first time it has had a dedicated nominated charity – Wandsworth Bereavement Service was their nominated charity for 2011/12.
Wandsworth Bereavement Service, established 21 years ago, is mainly funded by NHS Wandsworth, but in the last year it has been helped financially by Hanne & Co with money raised by sponsorship of the Lavender Hill Big Lunch, a bake off, dress down days, and two Hanne & Co solicitors running a marathon on its behalf.
Wandsworth Bereavement Service provides one-to-one counselling to anyone who has experienced a bereavement or is facing an anticipated loss, such as relatives of the terminally ill. The Service also offers counselling to those who have survived disasters and professionals who encounter death in their work and who need specialist support to help them work through their experiences.
Wandsworth Bereavement Service is especially proud of its services for bereaved children and young people aged between 2-18 years. There is an equipped counselling room with art materials and toys which children can choose to use to help them explore and manage their feelings. The donation from Hanne & Co will be used to further develop the children and young people bereavement counselling service.
In the last year 350 adults and 58 children have contacted or been referred to the Charity for help.
Susan Harlow, partner at Hanne & Co said: ""This is such a very worthy and essential service. We are proud to back it and all at Hanne & Co wish the Charity every success in going forward. We hope our contribution is of help".
For further information please visit www.hanne.co.uk or www.wandsworthbereavement.org.uk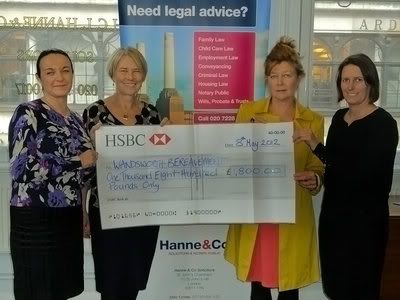 By Trainee Solicitor,Tom Ghannad.