On 28th 2011 June, Lorna Cservenka, a partner in our Child Care Department, was chosen by the LALY judges as this year's Family Legal Aid Lawyer of the Year for her sterling work on the heavily reported case of LB Richmond v B & W & B & CB (2010) EWHC 2903(Fam.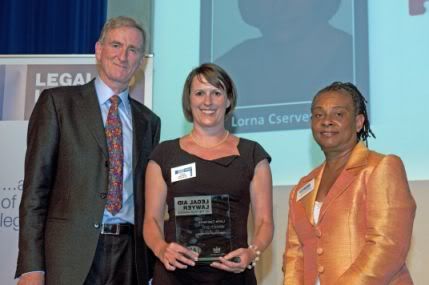 Lorna was presented with the Family Legal Aid Lawyer of the Year award by prominent human rights campaigner, Doreen Lawrence, the mother to murdered teenager Stephen Lawrence.
We are all very proud of Lorna having shown characteristic determination to achieve justice in this case despite all the odds. Acting for the mother whose child was removed from her care due to concerns over the client's drinking, Lorna chose to believe her client in the face of seemingly incontrovertible scientific evidence (hair strand testing). Whereas many solicitors may have assumed their client was lying and that the forensic evidence was correct, Lorna, by sheer doggedness managed to prove the test was wrong. Not only that but she realised that the procedure adopted by a major testing laboratory was fundamentally flawed and as a result the ensuing judgement has led to hair strand testing laboratories changing their procedure – hopefully avoiding miscarriages of justice in the future.
It is debateable how many Family lawyers would pursue their client's case faced with such a situation where there is an unfavourable test result from a reputable laboratory and their client – with a history of alcohol abuse – maintains they have not been drinking.
The client says quite rightly that Lorna went:
"above and beyond what I would have expected from a solicitor" and "she fought my case all the way. She alleviated my fears when we had to go to the High Court by knowing I was in her capable hands".
There is no doubt that this type of work is demanding and stressful. This is not a 9 to 5 job as all Family Legal Aid lawyers are aware; Lorna frequently works late nights and weekends but despite this has found time to work on a pro bono basis, in particular having manned the Rights for Women Free Family Advice Line since 2004.
Lorna is someone not just committed and dedicated to this exceptionally difficult work, but prepared to go out on a limb when the circumstances are right in the face of adversity. Whilst the other nominations were also very strong we feel that Lorna was certainly deserving of this award.
If you have any legal issues regarding child care law or family and divorce law please contact Hanne & Co on 020 7228 0017 or
email us here.